Vemics, Inc. closed at 0.0008 Monday (Oct 30, 2017) and based on the social media influence of respected penny stock traders and due diligence they've uncovered, the stock has already soared 700% by noon eastern time Tuesday morning on over 22 million shares traded. So what do we know so far:
VMCI to soon have name change to ICCT
ICoreConnect Adds board member who specializes in mergers and acquisitions, securities law and corporate governance.
Small Float, just 28-32 million shares
Bridge notes and Warrants way higher than current share price
Share Reduction of 2B to 600M via
Possible Relationship with StartUpHealth.com
The CONNECTION: $VMCI is now iCoreConnect https://finance.yahoo.com/quote/VMCI?p=VMCI … happened in June GETTING FINRA UPDATED!
About iCoreConnect
iCoreConnect creates cloud-based software that allows anyone to share information at the highest levels of security, backed by highly-responsive customer support. The company provides secure communications for high-compliance industries including healthcare, finance and legal. iCoreConnect's software allows organizations and individuals to freely and easily exchange information with 2048-bit encryption, and in full compliance of current federal laws.
Samuel B Fortenbaugh lll Added to Board
August 30, 2017 / Newswire) – iCoreConnect Inc. is pleased to announce the appointment of Samuel B. Fortenbaugh III to the Board of Directors of the company. Sam's specialties include mergers and acquisitions, securities law and corporate governance.
Sam is a former Chairman of Morgan, Lewis & Bockius LLP, one of the largest international law firms headquartered in the United States. He retired from Morgan, Lewis & Bockius LLP in 2002 and continues to practice law, specializing in general corporate matters. He is presently on the board of advisors of a private buy-out fund focused primarily on middle market companies.
"Sam has more than 50 years of exceptional legal experience and serves as counsel for
iCoreConnect," said iCoreConnect President and CEO Robert McDermott. "It is a tremendous benefit to our company and our clients to have a man of Sam's distinguished professional caliber serving on the Board of Directors."
For Sam, this is an opportunity to continue to participate in guiding and growing the company. "I am looking forward to working in this capacity with Robert and his impressive, expanding team," said Fortenbaugh. "iCoreConnect's technology improves efficiency and experience. And that is something that can truly benefit a wide variety of industries and their consumers."
Sam served on the boards of Western Publishing Group, Inc. (NASDAQ), Baldwin Technology, Inc. (NYSEMKT) and Security Capital Corporation (NYSEMKT) as well as a number of privately held corporations.
Bridge Notes = $0.45 Warrants = $1.35
Shares Reduction According to NVSOS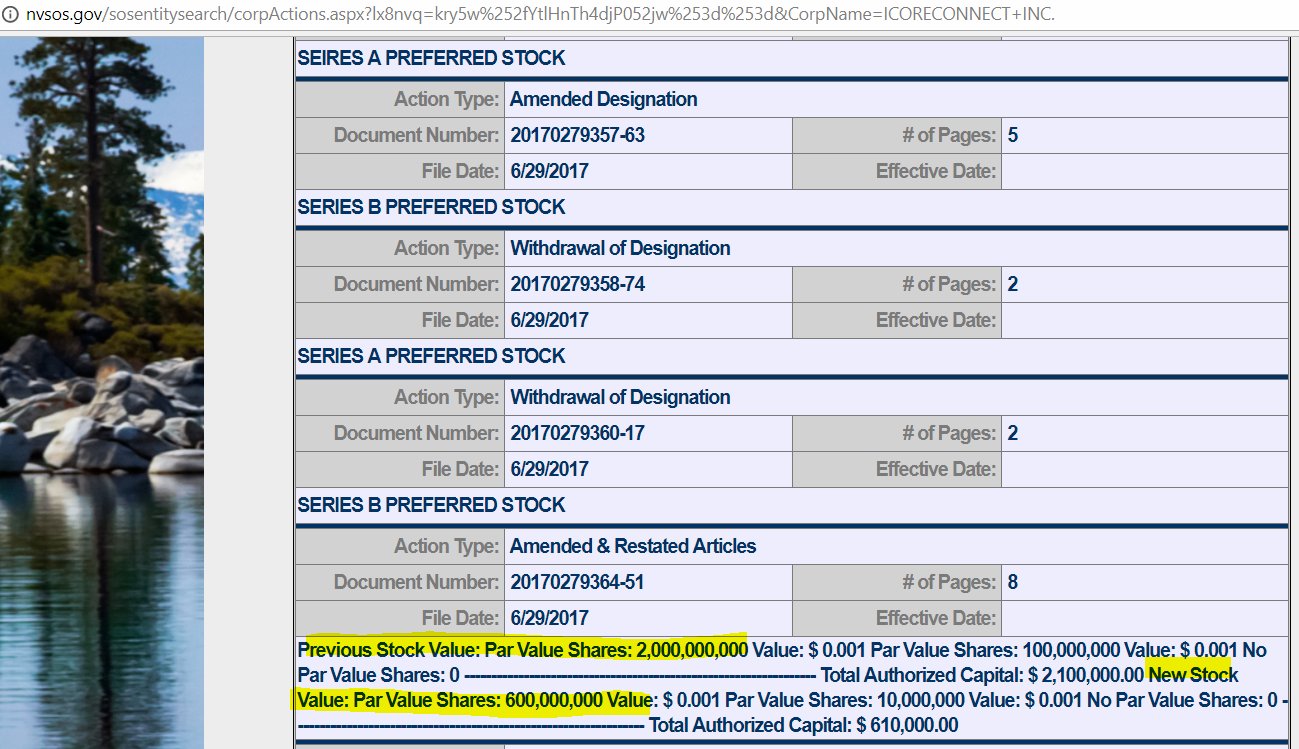 StartUpHealth.com Relationship
Through StartUp Health, iCoreConnect gains long-term access to a global network of peers,
partners and promotion. "StartUp Health's emphasis on collaboration is closely aligned with our company philosophy. We consistently evaluate customer and marketplace input and incorporate it into our product development," said McDermott. "For instance, we spoke with 2,000 providers before we wrote one line of code for iCoreExchange, our cloud-based, HIPAA-compliant email exchange. We very much welcome the opportunity to expand our collaborations through StartUp Health, an elite group that is actively transforming the health industry."
About StartUp Health
In 2011, StartUp Health introduced a revolutionary new model for transforming health by organizing and supporting a global army of entrepreneurs called Health TransformersTM. The Company has identified and is investing in 10 Health Moonshots, with the long-term goal of improving the health and wellbeing of everyone in the world. These include: Access to Care; Cost to Zero; Cure Disease, Cancer; Women's Health; Longevity; Mental Health; Brain Health; Nutrition, and Children's Health. With the world's largest digital health portfolio (over 200 companies spanning five continents, 18 countries and 60+ cities), StartUp Health's long-term platform for entrepreneurs includes the StartUp Health Academy, StartUp Health Network, StartUp Health Media and StartUp Health Ventures. Founded by Steven Krein and Unity Stoakes, StartUp Health is chaired by former Time Warner CEO Jerry Levin. Notable strategic
partners and investors include AARP; Aurora Health Care; California Health Care Foundation; Steve Case; Mark Cuban; Esther Dyson; Brad Feld; Genentech; GE Ventures; Janssen Research & Development; Kaiser Permanente Ventures; Robert Wood Johnson Foundation; SAP; and SeventySix Capital. To learn more, please visit http://www.startuphealth.com.
Disclosure: PSInvestor.com was not compensated for the above article nor do they hold any position in the company mentioned. To read our full disclaimer, please click here.